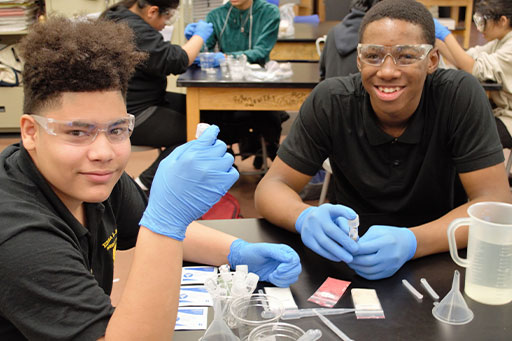 STEM programs in economically disadvantaged communities lack critical resources—and we want to change that.
The Students 2 Science mission is to level the education gap by bringing high-quality STEM education to students in need.
We immerse elementary through high school students in exciting learning environments to spark a life-long passion for STEM and introduce them to college and career pathways for a better future. Our scientist-based staff and S2S professional volunteers mentor the next generation of STEM innovators and give them access to life-changing opportunities.
Our STEM Programs Empower Students
to Succeed.
Students 2 Science provides students with authentic, dynamic lab and in-class learning experiences that challenge them in new ways.  We help students feel good, valued, and confident—and get them fired up about STEM!
We connect science to real-world applications, demystifying STEM jobs and illuminating pathways for a better future. We do it for the students.
The V-Lab Program
The V-Lab (Virtual Laboratory) is S2S' signature remote-learning program. Led by innovative instructors from our Technology Centers, it is livestreamed directly into 5th-12th grade classrooms. V-Lab aligns with Next Generation Science Standards that set expectations for what students should learn and achieve in science classes.
The ISAAC Program
Our ISAAC Program (Improving Student Affinity and Aptitude for Careers in STEM) is an in-house lab geared for middle and high school students that offers real-world, hands-on, career-oriented opportunities to experience STEM activities in state-of-the-art laboratories.
Career Advancement Program
Career Advancement Program (CAP) facilitates STEM education and career pathway exploration for high school students (grades 10-12) by connecting them to local, regional, and national partners in S2S' STEM ecosystem and offering them real-world experiences in diverse STEM fields.
After School and Summer Programs
Science is a constant. It happens all around us, not just in school! We offer students after school and summer programs where they can engage in STEM without borders and outside of the traditional school environment.
Get Involved
Support students in your community! Volunteers are the backbone of Students 2 Science. Our volunteers bring a diverse range of expertise as STEM innovators. They comprise of active STEM professionals, retired scientists, PhD candidates, teachers, community leaders, and STEM advocates. Learn how you can get involved, help the broader community, and improve lives through STEM pathways for a better future.
Individual Volunteers
Local volunteers work side-by-side with student participants, in-person and virtually, to support, inspire, motivate, and provide career advice.
Not a STEM professional? No problem! Students 2 Science has volunteer roles available for all people who are passionate about STEM, regardless of expertise.
Corporate Partners
Corporate partners make great student mentors. Employees from the corporate partners who work with us gain the opportunity to teach students about STEM and engage in meaningful conversations with students about their futures.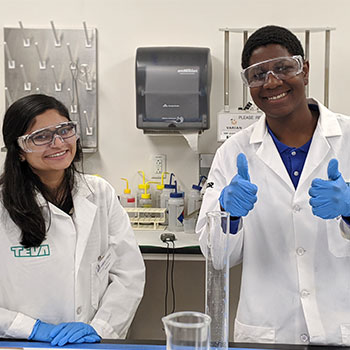 Higher Education Partners
College and university students can serve as mentors and assistant instructors for our ISAAC and V-Lab programs and support STEM program development. Post-secondary students make excellent role models for our students interested in pursuing careers in STEM.
Internships
Internships are the perfect way for high school and college students to continue to work with Students 2 Science throughout the year. Our interns help develop new experiments for both ISAAC and V-Lab programs and support program delivery.
Visit our Resource Center for high-quality program content, information on STEM career pathways, and other helpful resources.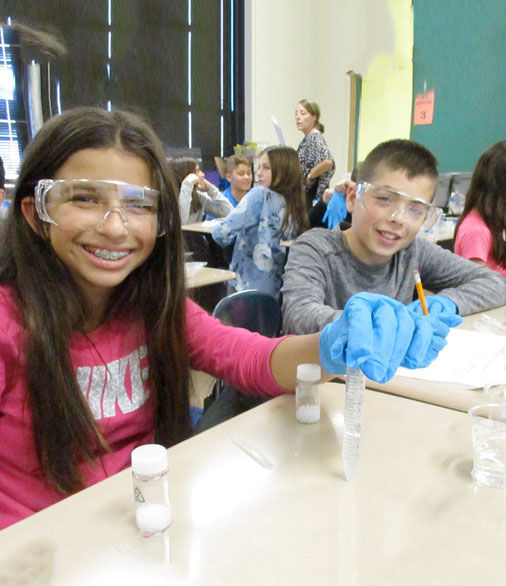 The past year has presented several challenges to maintaining an interesting, motivating, and rigorous science program in public schools. The V-labs made possible by Students 2 Science helped alleviate those challenges by providing an opportunity for students to observe, engage, and learn science concepts as well as introducing them to career possibilities. The V-lab instructors have been and continue to be flexible, responsive, and inviting, making our virtual time together enjoyable. I appreciate everything that S2S has done and continues to do to inspire our students and make science accessible.
– John Severs, District Supervisor, Science, Irvington Public Schools
This is my 4th time coming to S2S. I find it very intuitive and very engaging. I always had a passion for science, it always got my attention but going here definitely gave me a different perspective on it. It's one thing to hear about scientists and see them on TV and another to work with them and be in a lab and see a little bit into the day to day of what they do and how they conduct their experiments.
– Wolfeneger Michel, Senior, Irvington High School
I must admit that volunteering at Students 2 Science has not just been an altruistic experience. I have gained a social network of STEM focused professionals and connected with the younger students as a role model. My only regret was not finding this program sooner! STEM college students looking forward to getting hands-on experience in a laboratory setting with top-of-the-line instruments will gain greatly from this experience.
– Alejandra Diaz, Former S2S Intern and NJIT Student
It's always a pleasure working with you and seeing the members get excited for science! Thank you for all your amazing content, coherent communication and overall high quality of programming. The Boys & Girls Club members' days were highlighted by your input. Keep doing what you do best! The world needs more scientists out there, and you're doing an amazing job encouraging children to better the world through science!
– Charles Donaghue Jr., Coordinator of STEAM Programming, Boys & Girls Club of Hudson County